1RSOP-3 : Type 316 Stainless Steel Hardware
For installation in highly corrosive environments or when prolonged exposure to hot water or steam is anticipated, all BILCO products are available with Type 316 stainless steel hardware throughout (standard on type J-AL floor doors). Included are all parts of the latch and lifting mechanism assemblies; hold-open and guide arm and guides; and all brackets, hinges, pins and fasteners.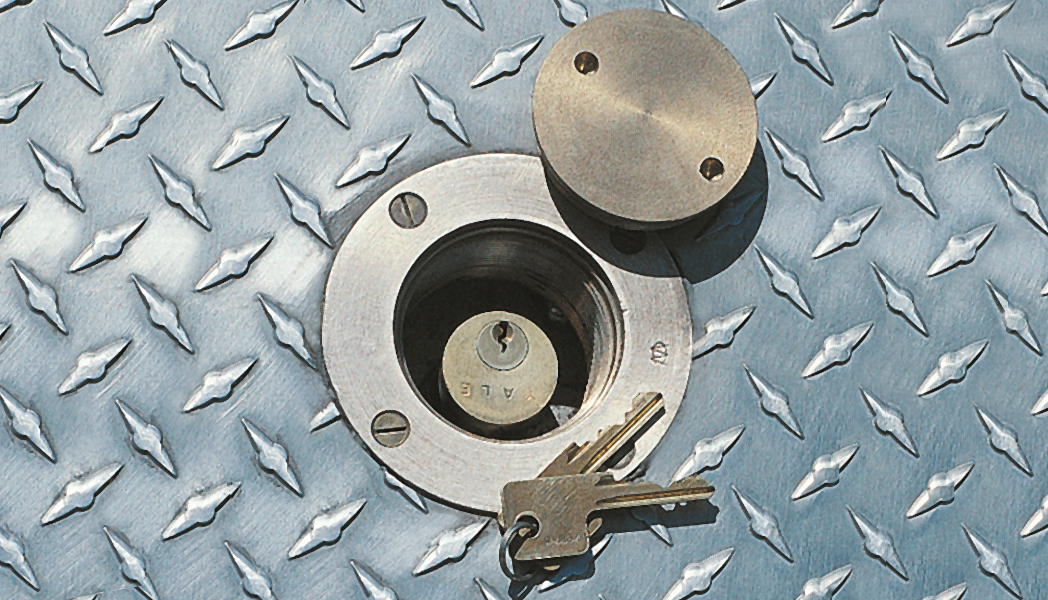 1FDOP-1 : Lock Option-Keyed Cylinder
All BILCO floor doors can be supplied with a Deadbolt cylinder lock when specified. Cylinder locks provide keyed exterior access and are available with either keyed or turn knob interior access. Cylinder locks are an ideal security enhancement for many applications. For added security and weathertightness, the lock cylinder is accessed from the exterior through a gasketed, threaded deck plate.
1FDOP-3 : Lock Option-Recessed Padlock Hasp
All BILCO floor doors can be supplied with a Recessed Padlock Hasp lock when specified. Padlock Hasps feature a flushed hinged lid and fully welded receptacle that is designed to receive a standard padlock (padlock not supplied).
1FDOP-2 : Lock Option-High Security Detention
Detention locks provide keyed interior and exterior access and are ideal for correctional facilities and other buildings requiring a maximum level of security. Bilco floor doors can be can be factory prepared to receive many leading brands of detention locks when specified. Doors are supplied with lock mounting bracket, strike, and watertight deck plate for fast, easy field installation of the detention lock.
1FDOP-4 : Lock Option-McGard Cover Plug
All BILCO floor doors can be supplied with a McGard security cover Plug when specified. Cover plugs fit into the threaded receptacle of a standard floor door slam latch and are the easiest way to add security to a floor door that is already installed. Cover plugs feature a unique security pattern head that can only be removed using the matching socket key supplied.
1FDOP-6 : Special Finish Options
BILCO products are now available with a factory applied powder coat paint finish. Click details for more information on this finish and for a list of other custom finish options available.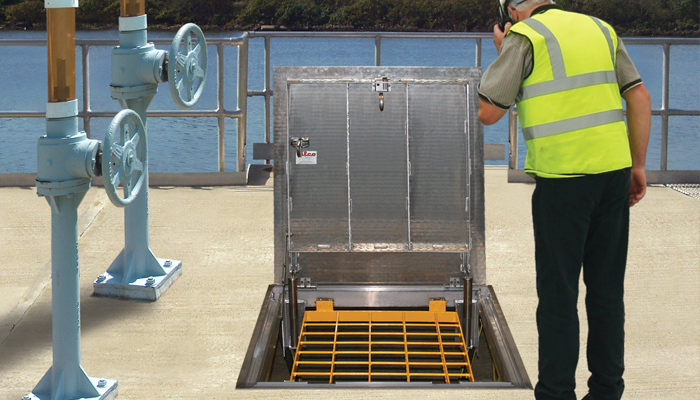 1FPG-1 : Fall Protection Grating for Floor Access Doors
Fall Protection Grating System allows workers to safely inspect pumps and monitor underground areas. Meeting OSHA 29 CFR1926.502(c) requirements for fall protection for access doors, the system is now available from BILCO as a factory installed option on selected models.
1FDOP-5 : Grating Covers
BILCO floor, vault and sidewalk doors may be specified to include steel (shown) or aluminum grating. Grating panels are available for pedestrian and wheel load applications.
1FDOP-8 : Flush Lift Handle
BILCO floor access doors are supplied with a removable lift handle for easy one-hand operation. For added convenience, a built-in flush lift handle is an optional feature on all floor access doors.
1J-AL-R : Gasketing-Odor Control
Type J-AL doors can be supplied with a special gasket for odor control. Doors are designed to contain odors and reduce the air leakage rate in odor emitting environments. Air infiltration is limited to less than one cubic foot per minute per lineal foot of frame opening while under a pressure differential of 1" of water column. Note: Doors can be ordered with both debris and an odor control gasket options.